Empires, Gods, the ancient origins of our world today.
Why study Ancient History?
Ancient History might be very different from the History you have studied at school so if you're looking for a new challenge or to expand your historical knowledge then this could be the subject for you. You need no prior knowledge of the subject, just an interest to learn more about Greece and Rome!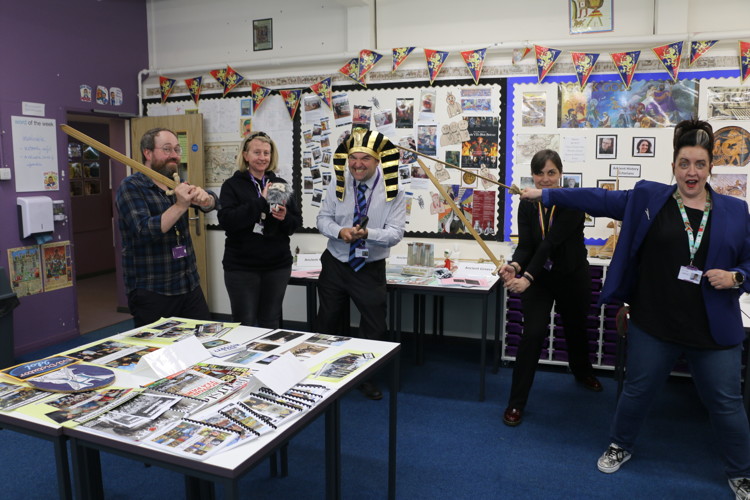 Matt, Elaine, Phil (Head of Humanities), Silvia and Mel - History Department
What will I study?
Unit 1 – The Challenge of the Persian Empire:
This unit will focus on the relations between the Greek city-states, particularly Athens and Sparta, and between Greek city-states and the Persian empire during the period 492 – 404 BC. (25% of the final A-level).
Unit 2 – The Rise of Macedon, c. 359 – 323 BC:
This unit looks at the rise of Philip II of Macedon and his son Alexander the Great. It looks at the evolution of the Kingdom of Macedon under their leadership and Alexander's ultimate conquest of the Persian Empire. (25% of the final A-level).
Unit 3 – The breakdown of the Roman republic, 88 – 31 BC:
This unit charts the transition of Rome from a republic to how it became an empire and looks at the role key individuals played in this such as Caesar and Cicero. (25% of the final A-level).
Unit 4 – The Julio-Claudian Emperors, 27 BC – 68 AD:
This unit examines the development of Imperial Rome under the Emperors Augustus, Tiberius, Gaius, Claudius, and Nero. It focuses particularly on the military, social, religious and political issues of their reigns and how ancient sources have recorded this. (25% of the final A-level).
Which exam board & how will I be assessed?
OCR.
There are two exam papers at the end of your two years of study.
There is no coursework.
Where could it take me?
Ancient History students go on to various universities and apprenticeships. Universities include Oxford, Cambridge, Manchester, Liverpool, St Andrews, Leeds, Bangor, and Warwick. Possible careers it could lead to include; academic researcher, archivist, heritage manager, secondary school teacher, and much more.
Subject combinations
Ancient History can be studied alongside one of Medieval History or Modern History
The course combines well with Politics, all English courses, Law, Geography, Sociology and Philosophy and Religion.
What support is available?
A wide variety of support is available in Ancient History such as one-to-one tutorials, revision sessions, online and library resources and learning support sessions to help you develop specific skills such as note making or revision techniques.
What extracurricular activity is available?
Recent trips include Rome, Pompeii and the British Museum in London. We host talks from speakers such as Edith Hall of King's College London and the 'Classics for All' organisation have run a beginners' Latin course for those people who would like to learn Latin.
Did you know?
Very few Sixth Form Colleges offer Ancient History.
Over the past 2 years, 4 students have gone on to Oxford or Cambridge to study history-related subjects.